School of Physical Sciences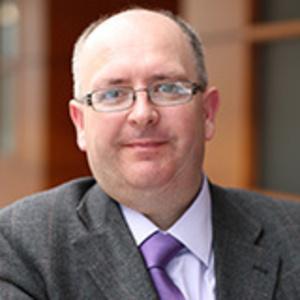 Academic Qualifications: B.Sc. (1st Class Hons.) in Applied Physics awarded in 1991 at DCU. Awarded the Lynam Gold Medal in Physics for achieving 1st place in the 1991 graduating class Ph.D. degree in Solid State Physics awarded in 1996 at DCU (Thesis Title: A Photoluminescence Study of Cadmium- and Aluminium-Related Defects in Silicon). Career Outline: Postdoctoral research in the Materials Group at the National Microelectronics Research Centre (NMRC) during 1996 working on the study of metallic impurities in silicon. Academic staff member in School of Physical Sciences at DCU since 1996. Associate Dean for Research in the Faculty of Science & Health (Nov. 2011-Oct. 2014), Deputy Head of School, School of Physical Sciences (Sept. 2012 – Aug. 2015) and Head of School of Physical Sciences (Sept. 2015 – Aug. 2018). Academic appointments at DCU: -Assistant Lecturer (1996-2000) -Lecturer (below bar, 2000-July 2001) -Lecturer (above bar, July 2001-December 2005) -Senior Lecturer (January 2006-September 2014) -Associate Professor (September 2014-present; grade re-titled to Professor in June 2017)
My general area of research is in the growth and study of semiconductor materials. In the early part of my career I focussed on the study of the optical properties of defects in silicon. More recently I have worked on the growth and study of wide bandgap materials and nanostructures using optical spectroscopy and other characterisation techniques.
Specifically my main current area of research is the growth and characterisation of nanostructured semiconductor materials, especially nanostructured metal oxide materials. My recent work has been particularly focused on the wide bandgap material, ZnO, and its nanostructures. This work has concentrated on the understanding of how these nanostructures grow, what determines their crystalline structure and morphological properties and also how they interact with light on both long and short (femto-second) timescales.
I am a founder member of National Centre for Plasma Science and Technology (NCPST).